Lisenby Library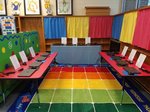 Our new Laptop/Research Area!
Welcome to the Lisenby Primary School Media Center!
Lisenby Primary School Media Center Mission: The mission of the Lisenby Primary School library media program is to ensure that students, teachers and staff are effective and responsible users of ideas and information.
Technology: We have 12 laptop stations in the library. They are used for research projects during library lessons. The students are taught to obtain information from safe websites. (A list has been provided for you on this flyer!)
Book Check out: The students check in/out books each week. Pre-K, Kindergarten and 1st grade check out 1 book each week. 2nd grade students check out 2 books each week.
Book Care: Please encourage and help your child take care of library books when they are brought home. Keep food and pets away from books. If your child's book is lost or damaged, there is a charge to replace it before other books can be checked out. Thanks!
Library Schedule: Each class comes to the library once a week. We have a set schedule. There are 3 small slots open each day for children to swap and/or return books outside of their regular class time. During class time, we explore books, learn about a variety of genres, conduct research, master parts of a book and how they are sorted in the library, and so much more!
Be a role model. Let your child see you reading at home and help your child explore new technology!